Have fun
Meet people
Learn
Share
Get your hands dirty

The Oakville Horticultural Society is the place for you. Members need not have their own garden or an extensive knowledge of gardening, just an interest in plants, gardens, and gardening.
From learning about orchids to creating water-wise landscapes, you will find our monthly speakers  knowledgeable and interesting. Most presentations include a slideshow with questions and answers.
You can share flowers and vegetables from your garden or admire those of fellow members at our regular flower shows. Perhaps you would like to try your hand at floral design. During the course of the year, flower arranging workshops are offered for those who would like to learn how to do their own.
Our newsletter is mailed to members each month except July and August. The newsletter includes information on upcoming events and seasonal gardening tips.
Each spring you can attend our fabulous plant sale, where members share their favourite perennials. Great buys and prices to be had!
Our garden tour, usually in June, is another event not to miss. You can enjoy many beautiful Oakville gardens and get ideas and inspiration for your own garden.
Workshops and Demonstrations, from pruning to floral design, will help you improve your gardening practices and artistic techniques.
If you would enjoy lending a hand, there are many volunteer opportunities. Whether you can organize a flower show, help with bookkeeping, work on an environment or a community beautification project — or just share your favorite baked goods, your assistance is most welcome.
Membership Rates

Evening Meeting Guest Admission .. $5.00
Single Annual Membership .. $20.00
Family Annual Membership .. $30.00
We now have 3 methods by which you can pay your membership.
In person at a monthly meeting.

Online: To pay your membership please send an Interac e-Transfer from your bank to memberpay@oakvillehort.org. Mail or email the membership form to membrship.ohs@oakvillehort.org

By Cheque: print the membership form and mail with a cheque to:
Oakville Horticultural Society
P.O. Box 1220
146 Lakeshore West
Oakville, Ontario L6K 0B3
For further information, email ..
membrship.ohs@oakvillehort.org
For a fillable pdf version of the membership form click here. Download the form and send via email to membrship.ohs@oakvillehort.org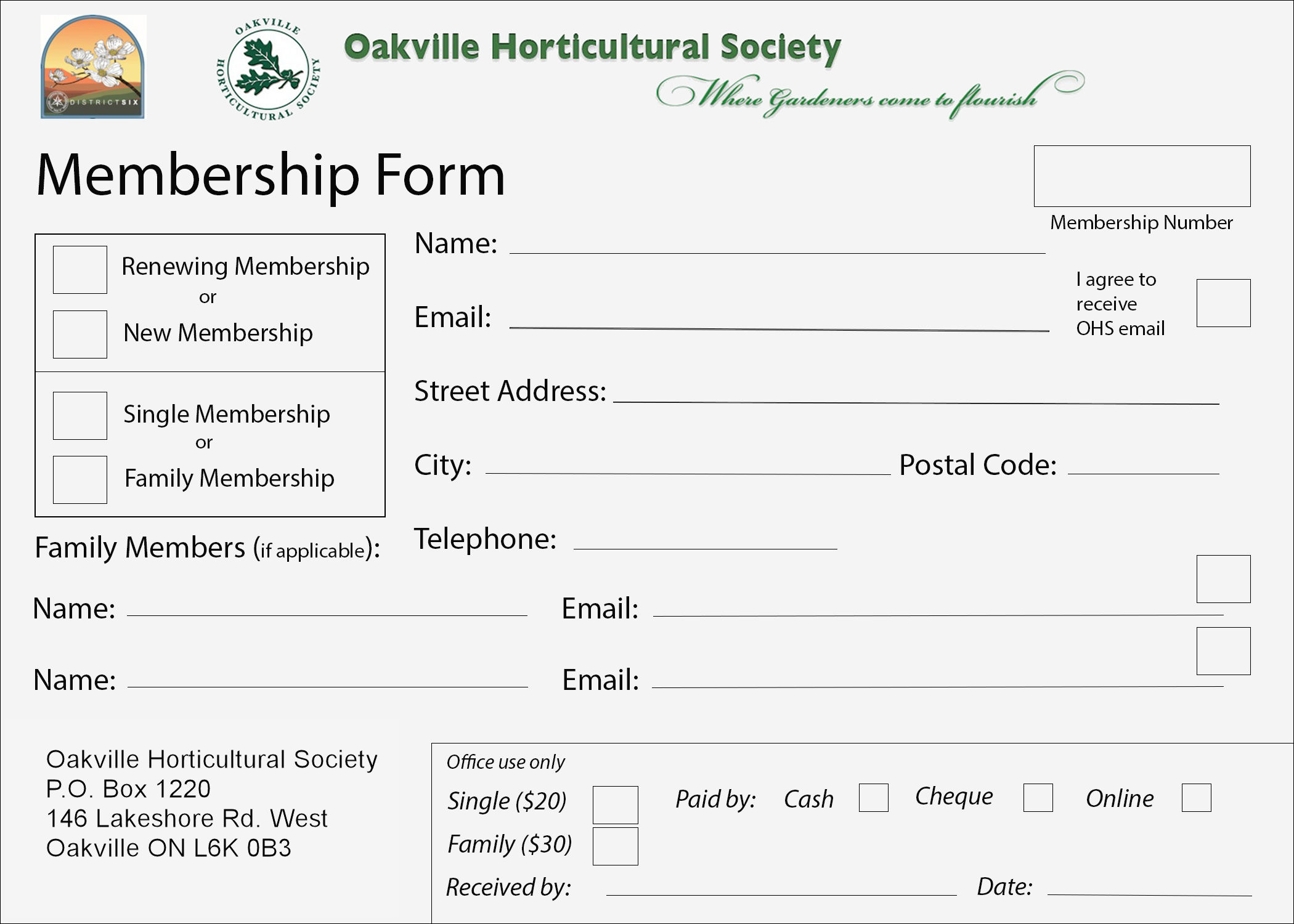 Save
Save
Save
Save
Save