June General Meeting and Flower Show

Monday, June 14, 2021
June Speaker: Deborah Hardwick
Title: Clematis:  The genus of diversity, myths and truths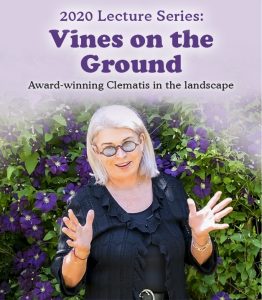 Deborah Hardwick is an avid 'clematarian' who has spent the last 20 years studying, collecting, growing and now hybridizing clematis a plant affectionately known as "queen of the vines." A renowned expert, her garden contains a collection of over 1300 registered and species clematis taxon in addition to her nursery with hundreds of proprietary hybrids.
In addition to being a frequent contributor to the journals of both the British Clematis Society and the International Clematis Society, Deborah is also one of the authors of the Clematis of the Month series for the ICLS and a member of the Garden Writers of America. Deborah describes her avocation as " a single genera focus and relentless obsession to learn, network, collect and share knowledge about clematis."
Spring Hill Nursery partnered with Deborah to create an extraordinary, new line of Ready-to-Grow Clematis. These vining plants are known for their versatility, long lifespan and vibrant, exotic-looking blooms. Clematis plants can live 15 years or longer and produce blooms in many shapes, colors and sizes—some as large as 10 inches across.
Deborah's vision for bringing Clematis to your garden springs from her high standards. She requires plants that are colorful, durable, hardy, easy to establish, strong stemmed and heat tolerant.
Save
Save
Save
Save
Save
Save
Save
Save
Save
Save
Save
Save
Save
Save