Junior Garden: Our Outdoor Classroom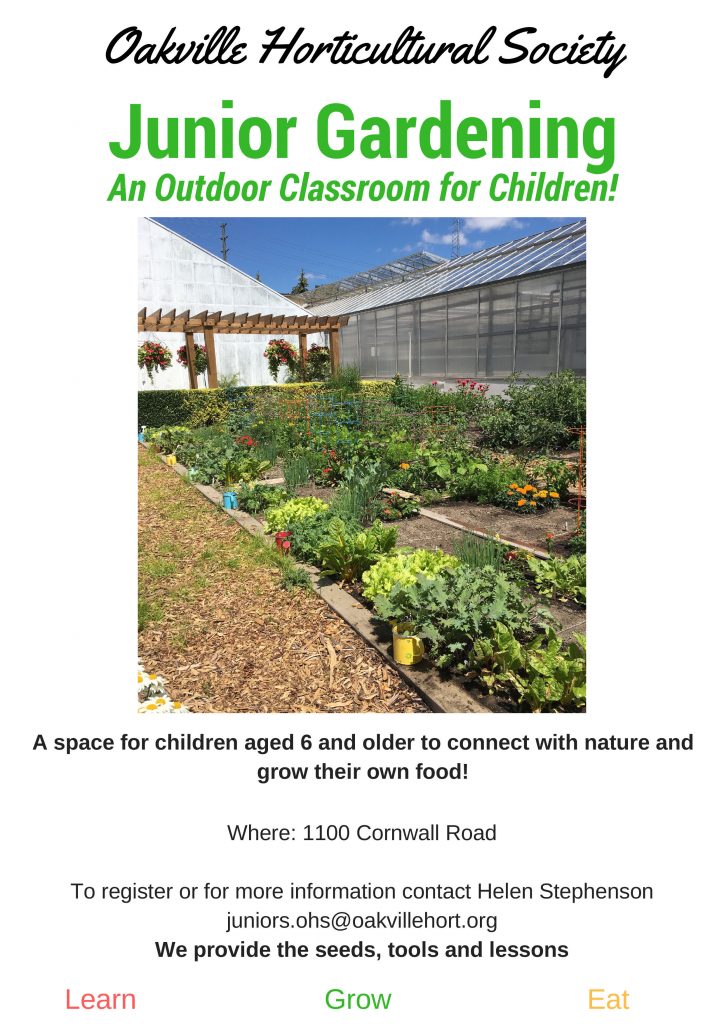 Our garden is an outdoor classroom — a live exhibit of so much that nature provides. An appreciation, an awareness and respect for the natural world, is an integral part of this hands on program. Gardens teach meaningful work — so much to do and observe each season. Children cooperate on real tasks with tangible and tasty outcomes. 
Program Details – Program is cancelled for 2021. The garden space will be used to grow fresh vegetables for local food banks. 

For instructional videos on vegetable gardening in Halton go to the following link.
Halton Environmental Network on YouTube
Location: 1100 Cornwall Road, just behind the Municipal Greenhouse. 
When: The program is held on Tuesdays from 4:15 to 5:15 during May, June and July. May and June are key planting months. Special nature presentations are also scheduled for all three months.
Cost: Participation per family, per plot is $75 for the season.
Age: Children must be between 6 to 9 years old. There is a limit of one adult with two appropriately aged children per family per plot. Children must be accompanied by an adult for the duration of the program. Each family is responsible for the care of their garden, including weekly watering and weeding.
Find out more about how you and your child/grandchild can participate in this unique program by contacting us at: juniors.ohs@oakvillehort.org.
See you in the Junior Garden!"
Save
Save
Save
Save
Save
Save
Save
Save