Plant Sale:
Cancelled due to COVID-19 restrictions
This is the Plant Sale anticipated by all gardeners of the Oakville and surrounding area. Offering great plants, these locally grown plants are proven performers in our member's gardens.
So you know your purchases will do well in your garden as well. Wondering what will do well in your garden? Just ask one of our members for hints and tips to successfully find the plants that suit your location and conditions. Also on site will be representatives from the Halton Master Gardeners. Don't be afraid to ask for help, gardeners love to offer advice to fellow gardeners
At the sale you will find many perennials for your garden. Depending on the donations from the members gardens you will find Artemesia… Astilbe… Lady's Mantle… Columbine… Cranesbil… Geranium… Bleeding Heart… Lamb's Ear… Coral Bells… Primula… Phlox… Sedums… Siberian Iris… Hosta… Daylily… Black Eyed Susan… Ferns (all kinds)… Purple Cone Flower… Fall Asters… Hens and Chicks… Ornamental Grasses… Monkshood… Solomon's Seal… Mums… Shasta Daisy… Sweet Woodruff… Ajuga… Asters… Japanese Anemone… Bellflower… Delphinium… Herbs… Lavender… and lots more.
Come early for best selection. Remember to bring boxes to carry your purchases.
For further information and or comments on the plant sale email:
plantsale.ohs@oakvillehort.org
Tips for the Gardener
Do your research, ask lots of questions — get to know your plants behaviour (aggressive, fussy, bloom times, sun/shade, etc) before you buy.
Too many colours can be overwhelming. Add some foliage to give your eyes "somewhere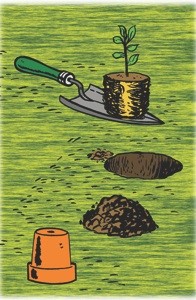 to rest." To get an idea of how your garden will look, place the plants, still in their pots, in the positions you want. When you are satisfied with the look, plant them.
For impact group plants in threes, then repeat throughout the bed.
Cool colours (blue, purple, green) make the garden appear calm and peaceful, but will get lost if planted behind warm coloured (red, yellow, orange) plants.
Perennial beds often look bare the first year or two. Try filling the spaces with annuals.
Add some native plants to your garden. They tend to be less fussy, more likely to survive when planted in the correct conditions. Native plants also have the added benefit of providing food and/or shelter to the local wildlife.
Tips for the Planting
Get to know your soil — is it sandy or is it clay? Form a ball in your hand; if it readily falls apart you have more sand, if it stays a lump, you have clay.
Clay soils will not drain so there is a danger to root rot, where as a sandy soil will drain too quickly drying out the roots.
When planting, mix your soil with a good supply of composted soil. This helps to open up the clay and to keep moisture in the sand.
Dig your planting hole about twice the size of the plant in the pot.
Create a mound at the bottom of the hole for the plant to sit upon. You want to keep the soil level to the same as it is in the pot.
Fill the hole with your mixed soil and water well.
You will need to keep the soil moist to help the roots establish. Don't forget to lightly feed your new plan
Preparations for 2019…
Some thoughts to keep in mind
Though it is still early in the garden the sale will soon be here. Finally we are beginning to see how really well some of our plants are growing. And how some are now truly candidates for dividing — either for further placement in your garden, or for the coming Plant Sale.
Your perennials will enjoy the digging up and dividing process. It not only reduces the overcrowding, but it also stimulates new root growth. Since you will probably be amending the soil at the same time, your plants will really enjoy the process. Think of it as a day at the spa for the plants.
We would appreciate if donations could be shown with the colour that the plants are and the common names of your plants. With that in mind, grab your camera and make a photo record of your garden. This will help you remember which plants are where, and you get a wonderful record of the glories you have in your garden.
As the summer progresses, you might decide to pot up some plants for next year. 4-6 inch square pots are more preferable since they can be carried in trays easier than round pots. When possible please use potting soil rather than the soil from your garden, making the potted plants lighter to carry. Once potted, you can "plant" these in your garden giving them a good season of growth.
If you need pots, sticks for identification just send an email to the Plant Sale. Remember to use permanent ink on the identity sticks. You can find the location of the depots for all your supplies and where to drop plants off in the April and May newsletters.
Further information/guidance on the plant sale email:
plantsale.ohs@oakvillehort.org
Thank you to all the volunteers who contributed their time and or their fantastic plants to make the 2016 sale a great success.
Save
Save
Save
Save